Drusilla's Buffy the Vampire Slayer Site
|
home


Buffy News

07/03/2001
Comicfest Supernova is coming soon - Buffy and other comic related merchandise, plus special guests, etc.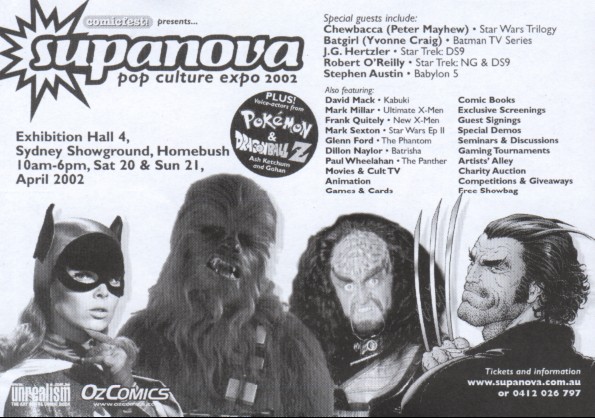 04/03/2001
Buffy returns tonight (episode 6.01) in Australia at 10:30pm, channel 7!
07/02/2002
OK I have A LOT to say right now... So here goes!
In Sydney:
- Parramatta Collectables Fair (February the 17th) for Buffy
merchandise. Parramatta Town Hall, about 3 mins from the station and
Westfield. Wheelchair access, and there might even be parking around
the back.
- ComicFest 2002 is coming soon. Also a good place for Buffy
merchandise. April 20 and 21.
- The 2002 "FSF Presents" ANGEL conventions... well, on the Sunday
(The Host aka Lorne day) will have an extra guest: The Groosalugg!
Check out their web site (www.fsf.com.au) for more details. It will
definitely be a day, or weekend (depending on what you chose to do,
or not do) to remember!
Everywhere:
- the CCG (Collector Card Game) should be out in selected stores now.
- Fray #6 (Joss Whedon's wonderful comic series) is running late
- Buffy series 4 action figures (Drusilla, Anya & variants of the
two, etc) are also running late.
- Angel Series 1 action figures should be out in your nearest
merchandisey place. If not, they should be soon!
- BUFFY (Season 6) will start on Channel 7 on the 26TH OF FEBRUARY,
after the Winter Olympics. It will be a double episode, starting at
9:30pm. Until then, repeats are on Mondays at 10:40pm. I am assuming
Angel will begin around the same time as Season 6 of Buffy.
- Calendars are 75% off (that makes them $5) for both Buffy and Angel
ones, at Target stores.
- Season 2 Buffy DVDs are out in something like 47 days...?
- A Watcher's Guide type of thing for ANGEL will be released on April
the 2nd, and it will be called the "Case Files." About time too! :)
And that should be about it for the moment!
Oh, one more thing. www.velvetchain.com is the web site of Velvet
Chain, a very cool band that has appeared on Buffy a couple of times.
Their music is great, so go and check them out!
New Figures:
Xander
Millitary Xander
Cordelia
Cheerleader Cordelia
Upcoming Figures:
Drusilla
Drusilla Vampire face
The Gentlemen x2
Gentlemen's Helpers
Angel:
Cordelia
Angel:
Angel
Angel:
Faith
Angel:
The Host bust
Angel:
Cordelia bust
Season 6 Has Started In America!
Buffy the Vampire Slayer can now be studied for an option of English 1A at Adelaide University. (see below)
Set Texts
Core Section
Charlotte Bronte, Jane Eyre (Oxford World's Classics)
David Malouf, An Imaginary Life (Picador)
William Shakespeare, Hamlet (Oxford University Press)
Film: Jane Campion (dir.)The Piano
Selected poetry, to be provided by the Department.
Options (students will select one only of these groups)
EITHER Poetry
Margaret Ferguson, Mary Jo Salter and Jon Stallworthy (eds.), The Norton Anthology of Poetry (4th edition).
Other selected poetry, to be provided by the Department.
OR Gothic Genre
Mary Shelley, Frankenstein (Oxford World's Classics)
Robert Louis Stevenson, Dr Jekyll and Mr Hyde
Elizabeth Jolley, The Well (Penguin)
Film: Jonathan Demme (dir.),Silence of the Lambs
*****Television: Joss Whedon (prod.), Buffy the Vampire Slayer*****
Poetry by Emily Dickinson, to be provided by the Department.
To see this for yourself, with pictures, visit:
http://www.adelaide.edu.au/English/eng1a.htm