Drusilla's Buffy the Vampire Slayer Site
|
home


Alison Krauss and Union Station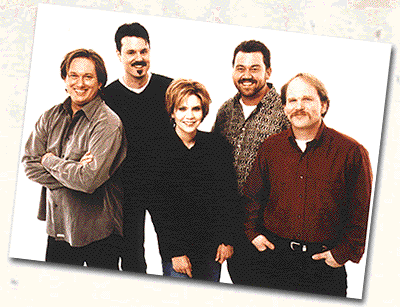 Alison Krauss and Union Station consists of Alison, Barry, Ron, Dan and somebody else I can't remember (sorry!).
Alison Krauss grew up in Champaign, Illinois where her parents encouraged her and her brother Viktor to play instruments at an early age. She began taking classical violin lessons when she was five. At eight she began playing bluegrass and soon was playing in bluegrass festivals and competing in and winning fiddle competitions around the country. Her initial acclaim was as an instrumentalist, but soon it was her voice that captivated people's attention. At the age of 14, Alison signed her first record deal with Rounder Records. Her debut album, Too Late To Cry, was released when she was just 16. By age 18 she had earned her first Grammy nomination for Two Highways and a year later Alison won her first of ten Grammys for I've Got That Old Feeling.
Alison's recordings have been used on movie and TV soundtracks including Buffy the Vampire Slayer, Twister, Midnight In the Garden of Good & Evil and most recently Happy, Texas.
Barry Bales, bas s player and harmony vocalist for Union Station, grew up in Kingsport, Tennessee. His first memories of music are listening to the records of Flatt & Scruggs, Bill Monroe, the Stanley Brothers, Bob Wills, Buck Owens, and Hank Thompson, from his father's extensive collection. Inspired by his father's guitar playing and singing, Barry started experimenting with different instruments at the age of ten. When he was sixteen he found the bass.
Ron Block has been playing the banjo and guitar, as well as writing songs and singing, with Union Station since October of 1991. Before joining Union Station, he was a member of the Lynn Morris Band (1991) and Weary Hearts (1985 - 1989).
Ron grew up surrounded by music in his father's music store in Lawndale, California. A musician himself, Ron's father played bass in a rhythm and blues band. Ron's earliest memories are of the smell of old guitars and of listening to guys sit around the store playing. When he was eleven years old, Ron received his first guitar. At thirteen he became fascinated with the banjo after seeing Lester Flatt and Earl Scruggs on television. The following year, Ron's dad gave him a banjo for Christmas.
Dan Tyminski, acoustic guitarist, lead and harmony vocalist for Union Station, is one of the most dynamic and talented performers to appear on the bluegrass scene in years. His outstanding vocal abilities and hard driving instrumental style have earned him a loyal following. Before becoming a member of Union Station in 1994, Dan used to play mandolin and sing with the Lonesome River Band.