Drusilla's Buffy the Vampire Slayer Site
|
home


Furslide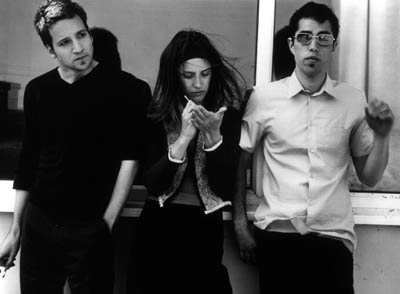 Purchase :
Furslide was formed by former Natalie Merchant. They are: Jennifer Turner (guitars, vocals), Jason Lader (bass guitar) and Adam MacDougall (drums).
in 1997, this New York-based trio signed with Meanwhile..., a small label owned and operated by producer Nellee Hooper (U2, Massive Attack, Bjork, Garbage, Smashing Pumpkins).
After a couple of years playing as Marmalade, Lader and MacDougall recruited Turner to help them refine their sound. The band played their first gig as Dirty Sharon, attracting the attention of Hooper, who later recruited them to be the first band to sign with her label. Soon after, they headed to London to record their debut.
Running the gamut from blues to psychedelia, their debut album, Adventure, contains various musical textures. "The idea was to try new things and come up with some versatile sounds that related to Furslide's eclectic musical influences. They wanted to experiment, and so did I," says Hooper.